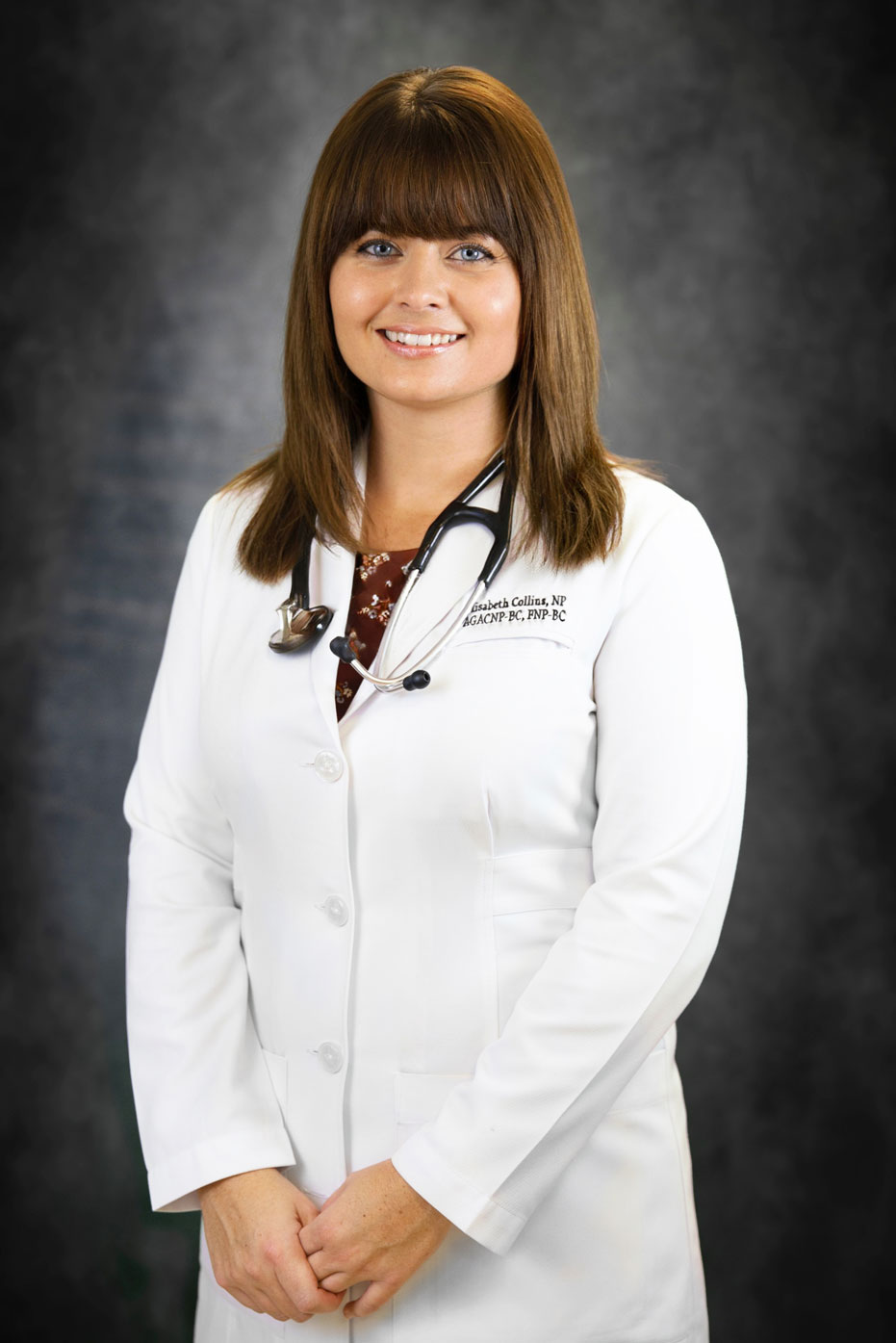 Elisabeth Collins
Elisabeth Collins has been involved in healthcare long before she became a nurse. From her experience as a Patient Access Registrar to helping patients settle billing issues as an Insurance Department Team Lead, Elisabeth has been involved in caring for people for over two decades. In 2015, she launched a new career as a Registered Nurse after completing a Bachelor of Science in Nursing from the University of Nebraska. She earned a Master of Science in Nursing in 2018 from the University of South Alabama, majoring in advanced practice nursing. She is dual board-certified as a Family Nurse Practitioner and Adult-Geriatrics Acute Care Nurse Practitioner. Elisabeth earned a Doctor of Nursing Practice in 2021 from the University of South Alabama after completing a residency in acute stroke management at GRMC.
Elisabeth began her career in nursing as a Certified Nursing Assistant (CNA) at Alegent Health/Catholic Health Initiatives in Papillion, Nebraska. In 2015, she started volunteering with the American Red Cross as a Registered Nurse (RN) in the Emergency Room at U.S. Naval Hospital in Okinawa before being hired there full time. Elisabeth joined GRMC as an Advanced Practice Registered Nurse (APRN) in January 2019. Her diverse experience in the Emergency Room, Urgent Care, Telemetry, and Medical/Surgical Units and expertise as a Family Nurse Practitioner and Adult-Geriatrics Acute Care Nurse Practitioner has made Elisabeth an important part of the GRMC team.
Elisabeth's clinical interests include prevention of diabetic complications, acute stroke management, global health issues, and quality improvement. When not caring for patients or continuing her training and education, Elisabeth enjoys traveling, reading, playing the piano, and spending time with friends and family. She is a member of the Society of Hospital Medicine, the American Association of Nurse Practitioners, and the American Heart and Stroke Associations.