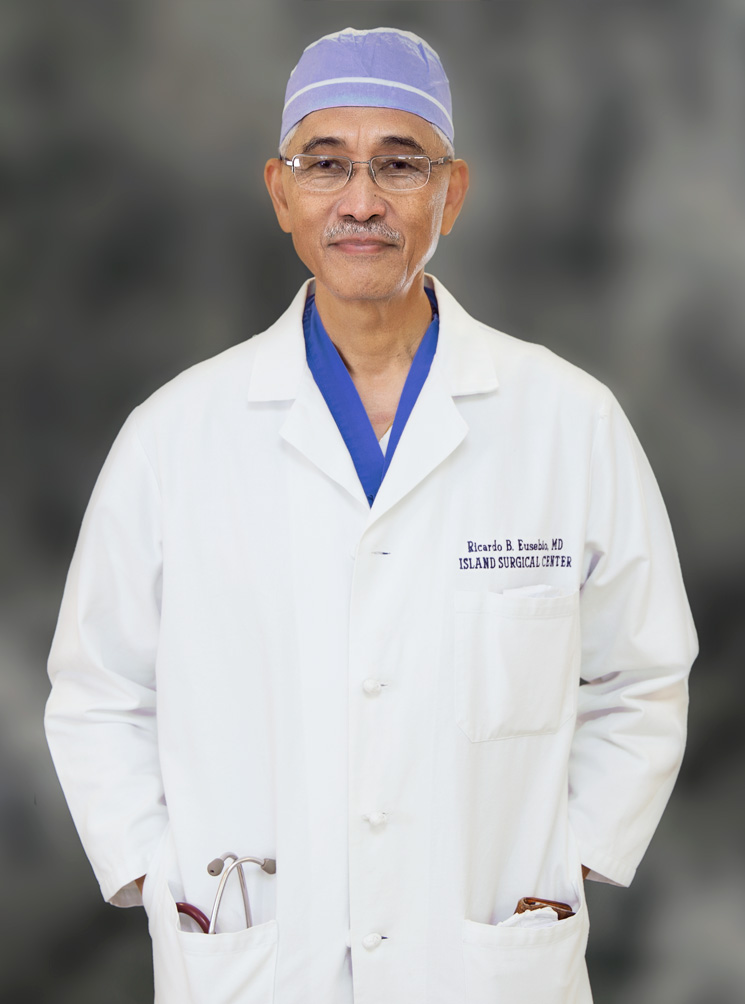 Dr. Ricardo Eusebio
Dr. Ricardo Eusebio has been practicing medicine for over 35 years, earning his medical degree at George Washington University School of Medicine, Washington, D. C. in 1981. He completed his initial surgery training to be a cardiac surgeon at the St. Louis University Hospital Group in 1983.  Changing course to general surgery, he began his military obligation at Naval Hospital in Great Lakes, Illinois followed by a tour as general medical officer onboard the USS Proteus AS 19.
Dr. Eusebio resumed his training in general surgery at Portsmouth Naval Hospital and completed his general and vascular training at Hartford Hospital/University of Connecticut program in Hartford, Connecticut. After completing his training, he was sent to be battlegroup General Surgeon aboard the USS America CV-66 serving during the completion of the Iraq conflict and subsequently returning to Guam to be Chief of Surgery at Naval Hospital.  Dr. Eusebio retired from active service in 1994 but was Executive Officer in the Naval Reserve Unit, Guam until 1998. Currently, he is an inactive reservist Captain, MC.
As a civilian, Dr. Eusebio was Chief of Surgery at The Doctor's Clinic until he began his private practice in 1997. He has held several administrative positions over the years as  Chairman of the Guam Board of Medical Examiners;  Associate Administrator of Medical Services, Operating Room Director, Director of Intensive Care Unit, President of Medical Staff, and Chief of Surgery/Department of Surgery at Guam Memorial Hospital.  He currently holds distinction as Governor of the Guam chapter of the American college of Surgeons.
Dr. Eusebio is a current member of the National Board of Physicians and Surgeons as well as a former member of the American Board of Surgery. He has participated in several distinguished societies including the William Beaumont Research Honor Society, Portsmouth Surgical Society, John Reed Surgical Society, fellowship in the American College of Surgeons, Pan Pacific Surgical Society, and the Society of Surgery of the Alimentary Tract.
To make an appointment for a surgical consultation, please call General Surgery at 645-5591 or 969-4951 or by fax at 969-4874. You may also email them at specialty.outpatient@grmc.gu.