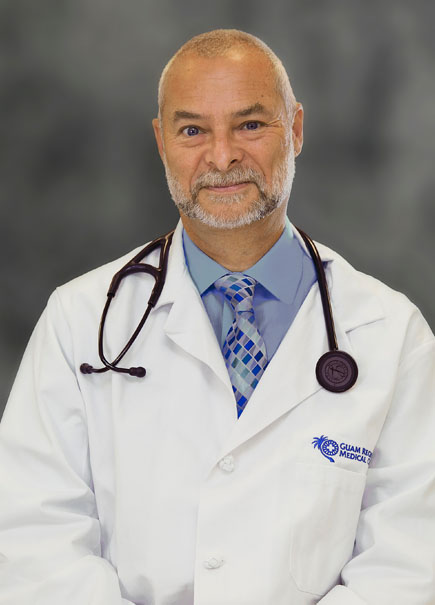 Dr. Joseph Wiedermann, M.D.
GRMC's Chief of Cardiology and Director of the Cardiac Catheterization Laboratory, Dr. Joseph Wiedermann is an Interventional Cardiologist who specializes in complex coronary disease, multi-vessel coronary disease, and acute interventions for myocardial infarctions.
Dr. Wiedermann has extensive experience in the use of catheters to implant stents and arterial balloons in blocked arteries. He is also an expert in rotational atherectomy, a procedure that makes use of a tiny rotating blade to open narrowed arteries and improves blood flow to and from the heart.
Dr. Wiedermann is a Phi Beta Kappa and Summa Cum Laude graduate of Harvard University and received his medical degree from the Columbia University College of Physicians & Surgeons.   He completed his Residency in Internal Medicine at New York Presbyterian Hospital where he completed Fellowships in Cardiovascular Research, Cardiology and Interventional Cardiology. He comes to Guam from Interventional Cardiovascular Associates/Valley Medical Group in Paramus, New Jersey where he also served as the Senior Attending Interventional Cardiologist at the Valley Hospital and Hackensack University Medical Center.
Dr. Wiedermann is a Fellow of the American College of Cardiology [FACC] and a Fellow of the Society for Cardiovascular Angiography and Interventions [FSCAI]. He is licensed to practice in New York, Hawaii, Wisconsin and Guam.